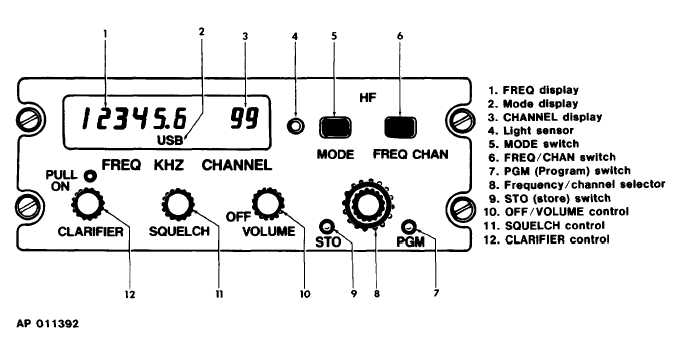 TM  55-1510-221-10
Figure 3-7. HF Control Panel (KCU-951)
channel control from 1 through 99, displayed at the
right end of the display window.
(9.)  STO  (Store)  recessed  switch.  

Stores
displayed data when programming preset channels.
(10.)  OFF-  VOLUME  control.
Applies
power  to  the  unit  and  controls  the  audio  output
level.
(11.)  SQUELCH  control.  

Provides   variable
squelch  threshold  control.
(12.)
CLARIFIER control.

Provides 250 Hz
of local oscillator adjustment.
c.  Normal  Operation.
(1.)  Turn  on  procedure:
NOTE
It  is  presumed  aircraft  power  is  on  and
normally   used   avionic   circuit   breakers
remain  depressed.
NOTE
Aircraft  can  be  configured  for  either  HF
or  VOW  on  position  4  of  Audio  control
panel (fig. 3-1).
1.
AVIONIC   MASTER   POWER
switch - ON.
2.  OFF-VOLUME  switch  -  Turn
clockwise  out  of  OFF  position.
Adjust volume as desired.
(2.)   Frequency   operation   (Simplex   only):
OFF-VOLUME Switch - Turn clockwise out of OFF
position. Adjust volume as desired.
3-16