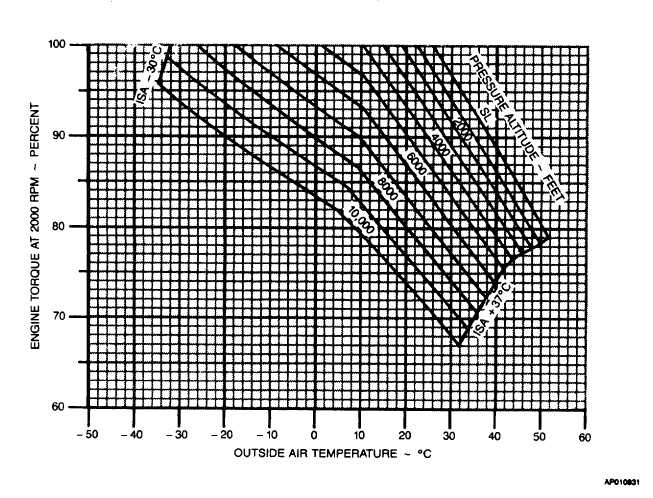 TM 55-1510-220-10
MINIMUM TAKEOFF POWER AT 2000 RPM
(65 knots)
NOTES:
1.  TORQUE INCREASES APPROXIMATELY 1% FROM 0 TO 65 KNOTS.
2.  THE PERCENT TORQUE INDICATED IN THIS FIGURE IS THE MINIMUM VALUE AT WHICH
TAKEOFF PERFORMANCE PRESENTED IN THE SECTION CAN BE REALIZED.  ANY EXCESS
POWER WHICH MAY BE DEVELOPED WITHOUT EXCEEDING ENGINE LIMITATIONS MAY BE
UTILIZED.
3.  FOR OPERATION WITH ICE VANES EXTENDED, INCREASE FIELD PRESSURE ALTITUDE 1000
FEET BEFORE ENTERING GRAPH.
Figure 7-9.  Minimum Take-off Power at 2000RPM
7-18