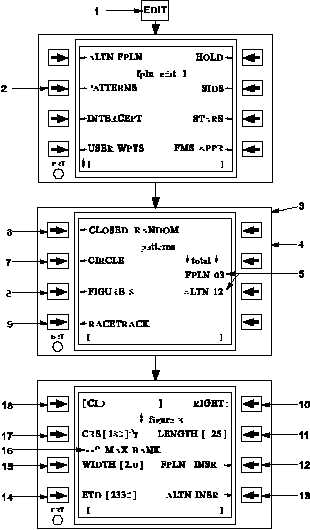 TM 1-1510-218-10
3C-151
Figure 3C-98.  MFP Page Access from the
Patterns Page
Table 3C-69.  MFP Page Access from the
Patterns Page Procedure  (Continued)
NO.
DESCRIPTION/FUNCTION
1
Press

EDIT

function key for Edit page.
2
Select the pattern page.
3
Select the desired pattern.
4
Enter  pattern  data  and  insert  the  pattern
into the active or alternate flight plans.
5
Indicates    the    total    number    of    MFP's
currently  in  the  flight  plan  and  alternate
flight plan.
Table 3C-69.  MFP Page Access from the
Patterns Page Procedure  (Continued)
NO.
DESCRIPTION/FUNCTION
6
To   access   the   Closed   Random   Pattern
MFP page.
7
To access the Circle MFP page.
8
Access the Figure 8 MFP page (Figure 8
is used as an example).
9
To access the Racetrack MFP page.
10
Select LEFT or RIGHT turns.
11
Insert pattern length.
12
To access the Flight Plan page and insert
the pattern.
13
To access the Alternate Flight Plan page
and insert the pattern.
14
Insert
estimated
time
of
departure
(optional).
15
Insert pattern width.
16
Computed maximum bank limit for pattern
width.
17
Insert pattern inbound course (optional).
18
Insert pattern fix (optional).
(3)   

Circle     patterns     require     all     parameters
defined above except for pattern length.  MFP geometry
definitions are shown in Figure 3C–99.
CRP's   are   special   patterns   made   up   of   crew
defined  points  connected  together  to  form  an  enclosed
flight path.  A CRP may be flown in repeated forward or
reverse sequence.
(4)   MFP    Entry    Guidance

.        The    FMS–800
provides  entry  guidance  into  MFP's  similar  to  that  for
holding patterns.
(5)   Designation of the Pattern Fix

.  The pattern
fix can be specified either directly on the MFP pages or
by   attaching   an   MFP   to   a   flight   plan   waypoint.      To
specify the pattern  fix  on  the  MFP  page  and  insert  it  in
the flight plan, press the  

FPLN

 

INSR

line select key on
the MFP page.  This accesses the Flight Plan page with
INSERT  XXX  BEFORE?  displayed  in  the  scratchpad.  
Where  XXX  is  FG8,  RTK,  CIR,  or  CRP  depending  on
which type  of  MFP  was  defined.    After  the  flight  plan  is
scrolled to the desired location, press the line select key
adjacent to the waypoint, which will follow the pattern fix.